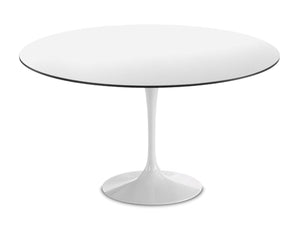 Gaber
Saturno
Sale price Price $375.00 Regular price $1,250.00 Unit price / per
Gaber's Saturno Table designed by Studio Eurolinea is a round dining table made with Compactop and painted aluminum frame.

Compactops are made of high-pressure laminate, consisting of numerous layers of paper saturated with thermosetting resins and bonded through the combined action of heat and high pressure. The paper used on Compactop (around 70% of the complete composition) comes from production processes that conform with the FSC chain of custody; phenolic and melamine resins are all strictly water-based.
The result is a stable, non-reactive, homogenous, non-porous, antistatic, high-density product with a totally distinct physical and chemical profile from that of its constituent parts. Thanks to the heat and high-pressure treatment it they undergo, Gaber Compactops are exceptionally
 

tough and resistant to scratches, abrasions, chemicals and heat, making them ideal for a wide range of contract applications
Top comes pre-bored for Gaber kit bases.
Floor samples and clearance items are sold as-is, final sale, without exchange or refund.  Most often we are discounting an item to encourage local purchase so we can refresh the store and update our offerings. This items may have minor cosmetic defects.
Dimensions: