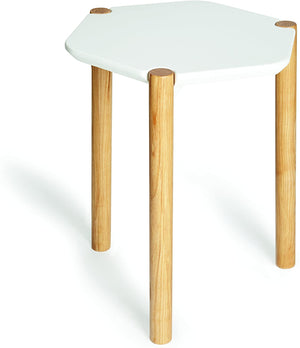 Umbra
Lexy Side Table
Sale price Price $56.00 Regular price $70.00 Unit price / per
MODERN SIDE TABLE, HEXAGON SHAPE: This hexagonal-shaped side table is highly functional on its own or paired as a set of three or more, its edges aligning to work well in groupings
MADE OF WOOD: Lexy has legs made of natural ashwood and an MDF top painted white. Also available in black/walnut.
GREAT FOR SMALL SPACES: If you're looking for a side table that fits well in a tighter space, Lexy will store all the basics you need without taking up lots of visual space or square footage. Measures 16¼ x 14½ x 19 inches.
DESIGNED BY WESLEY CHAU AND JORDAN MURPHY: With eye-catching shapes and the ability for multiples to work together, Lexy makes an eye-catching geometric coffee table that is highly configurable and purposeful.
Color: White/Natural
Floor samples and clearance items are sold as-is, final sale, without exchange or refund.  Most often we are discounting an item to encourage local purchase so we can refresh the store and update our offerings. This items may have minor cosmetic defects.